Welcome!
Welcome to ZIA PROMOTIONAL PRODUCTS!! Our website will allow you to view nearly 500,000 advertising and promotional products.
ATTENTION ALL PUBLIC SECTOR BUYERS: STATE PRICE AGREEMENT # 41-000-14-00070. PROMOTIONAL ITEMS has been issued by the State of New Mexico. Please use the "Preferred Vendors" button to see the many applicable brands and items.
Deals & Steals- Check out all the specials available under the Deals & Steals Tab. We update this daily so check back often!
Featured Item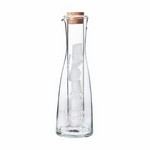 ICE-COOL™ Carafe
Your favorite beverages can be chilled without dilution. ICE-COOL™ can hold up to a full 750 ml bottle of wine. Great for wine, cocktails, tea, lemonade, etc. Fill the glass insert with ice cubes, pla...
$12.47 - $15.33



Make personalized connections in Business & Life.
Personalize your cards with logos/signatures/imprinted envelopes and custom greetings!
Signature Showrooms